Medical Billing Student Success Story • "Medical Billing & the Economy" • "Choosing Software for Your Medical Billing Business" • "My Healthcare is Killing Me!" • "Modifiers - Helpful Tips"
Student Success Story
Lisa Johnson
JEM Medical Billing of Utah, Inc


It has been a year since the effects of a fast paced high stress job combined with having two busy teenage boys and an infant daughter caused me to begin to have health issues. I had to make a very difficult decision. I walked away from a high paying corporate position and decided to stay home with my baby daughter and be more available for my family. That is when fate stepped in. My dear friend of many years who is an MD approached me to pick up his billing. I had experience working not only in his office but also working for many years with a health insurance company. I felt I had a strong background to start the business what I lacked was the road map of how to get started and up to date standards and practices.
Starting my own billing business felt right to me so I immediately began doing research on the internet to find a practice management system and any kind of training that was available. As luck would have it I ran across Medical Billing Course.com. The course was very complete and had all the information I needed to start a successful business.
Medical Billing & The Economy


If you own a TV, you have heard about the state of our economy.
If you own a medical billing business or are thinking about beginning a medical billing business, or wishing to pursue a career in the field of medical billing, you might be wondering how the state of the economy is going to affect this industry.

Since I am deeply involved in this industry, I have some information and predictions to share with you.

Let's break this down into 3 economical categories that affect all of us:

Career Viability/Future Growth, Business Cost/Feasibility, Income.
Starting Cheap or Starting Right?


Choosing Software for Your Medical Billing Business
Like any business owner can surely admit, I made a lot of mistakes when I first started my billing company. Choosing the right software was one of them. I started off with software I found in a catalog of Medical Arts Press. It was $399.00, how could I go wrong? I only needed software that would submit claims, so I naively thought.

I know that I put the cart before the horse when I started. I was very fortunate to have had my first client before I even started my business. Looking back however I see this was one of my first mistakes. Your Practice Management Software is such an important tool in your business, do not skimp on costs and do not get caught up in the notion that you will "Upgrade later".
My Healthcare is Killing Me!
E-Book Clears Up the Confusion
Guess what? You're not alone!
And you don't have to be an M.D. or a translator to understand healthcare and get your costs under control. The experts at change:healthcare share what they know about the system and how to survive it.

If you are looking to understand the system, save money, and become a smarter healthcare consumer then My Healthcare Is Killing Me is your guide!
Written by Robert Hendrick, Christopher Parks and Katrina Welty, three authors who share what they know about the American healthcare system, the book simplifies complex issues such as "quality vs. cost," "multiple insurances," "managing your healthcare" and "comparing health plans" in a sometimes tongue-in-cheek ways.
The lead author wrote this book intending to help newly hired employees of his company but because it is an awesome resource for understanding healthcare, insurance, etc. -
it is an amazing guide for medical billers!
Modifiers!
We were recently contacted by a woman with a secret! She has a fear of modifiers and how to use them effectively, so we set out on a hunt for a Modifier Resource. We found an awesome resource, A Modifier Grid, from the folks at Accuchecker. Check it out!
Audio CD's from BC Advantage!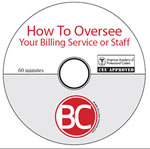 How To Oversee
Your Billing Service or Staff
Duration: 1 Hour
CEUs: 1 AAPC
Description: Sometimes it seems that our billing staff speaks an entirely different language. Short of charges and receipts what should we be looking for? How do we adequately evaluate their performance? By listening to this audio you will have a firmer understanding with a basic checks and balance system to put into place. You will also learn what questions you should be asking, what you should be looking for and feel more confident that you will not be at a disadvantage during reviews.